Large employers also covered for the burden of transition compensation
Compensation for every employer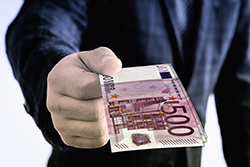 The government agreement had established that the ruling concerned small employers. It was subsequently decided that larger employers would also be considered. Every employer can make use of the ruling if they meet the conditions. This will make the procedure more affordable.
Transition compensation
Employers are required to pay transition compensation to any employee who is dismissed after two years of sickness or disability related absence. This compensation must be paid by the employer, and the maximum permitted amount is equivalent to the salary that was paid during the two years of illness. The purpose of this regulation is to limit the costs of prolonged absence and dismissal on the employee. It is also intended to prevent long term dormant employment contracts.
Starting date
You can apply for compensation from the UWV from the 1st of April 2020, provided that the application is made within 6 months of the payment of the complete transition compensation. Compensation can be applied retroactively to transition payments that were made from 1st of July 2015 onwards. This is possible between the 1st of April 2020 and the 30th of September 2020. These dates were confirmed after discussion with the UWV. In this discussion the UWV made it clear that they needed time to prepare for this regulation.
Deel dit bericht via
Inschrijven nieuwsbrief